New Harvest coming in 2024
We have sold out this year!
Thank you for your incredible support!
We will be back with a great new batch in 2024. See you soon
Land
We are from Avantos.  Right in the middle of "Terra Quente", in the heart of the "nordeste transmontano", the most north-eastern region in Portugal. Our olive groves are crossed by wild boars, deer, rabbits, foxes and, occasionally, a few humans. We treasure and celebrate our land as a shared territory, belonging to all species. The trees are mostly of the "verdeal" variety, having spread their roots many years ago, thus earning the respect and admiration of anyone who goes there.
Time
In Avantos, the passing of time is almost majestic. With each new day, the diameter of our olive trees expands in silence, a glorious expression of the wisdom that only time brings, and of nature's unwavering vitality. Every day we feel blessed to be able to witness the beauty of these living organisms that continuously withstand the blows of destiny and the destructive hand of mankind. Our olive trees have survived plagues, earthquakes, world wars and the relentless force of industrialisation. Today, in the shape of each olive, we feel the stability of passing years, of the earth's slow rotation. The story of time is right in front of us.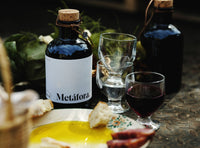 Metáfora
This bottle is a metaphor for "saudade", for the devotion and respect for the land we inherited. We proudly present a millennial blend, made exclusively from centenary and millennial olive trees. Extracted primarily from "verdeal" olives, our olive oil is remarkable for its green, bitter and spicy flavor, making it an imperative seasoning in any Mediterranean dish. Our olives are carefully selected and cold pressed the very day that they are picked from our trees, ensuring a perfectly fresh olive oil with the lowest acidity level and a flawless peroxide value.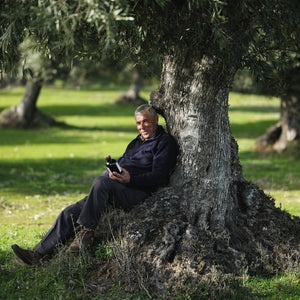 Sr. Fernando
It was Mr. Fernando, loyal keeper of our olive trees since 1975, who started drawing the "A"s adjacent to the "M"s on our tree trunks. The initials "MA" stand for our grandfather's name, "Mário Araujo", and we still use them to seal our olive oil bottles to this day.
Sr. Fernando
A true expert in all the qualities that make an outstanding olive oil, Mr. Fernando carefully prepares "Metáfora" in the olive oil press of "Prolagar" in Mirandela. Harmonizing the respect for tradition with the most recent market demands, Mr. Fernando is capable of extracting an olive oil that fully represents the pride, the authenticity and the wisdom of the "Transmontano" people.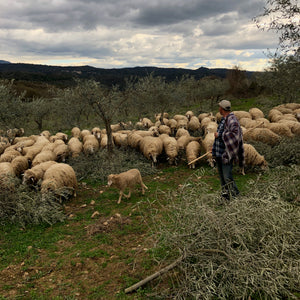 Sr. Fernando
Always ready for a good chat, Mr. Fernando walks through our olive groves every single day, with his dogs and sheep as companions, having inevitably become the faithful keeper of our lands. The sheep indulge on the wild grass, free from any herbicides and pesticides, that grows freely and peacefully in our fields.